This week, a Federal Judge in Philadelphia approved the city's (and the nation's) first "safe" heroin injection site for operation. The nonprofit organization, Safehouse, whose goal it is to establish legal opium dens all across the city, put up a long battle against various communities and attorneys over this proposal. However, one can't help but wonder why?
According to advocates and Safehouse directors like former Pennsylvania Governor Ed Rendell, they were "compelled to act" due to the assertion that Philadephia has the highest death rate of heroin addicts of any large city; whatever that means.
Of course this entire nonprofit project, for which Safehouse has fought tooth and nail against the local communities they seek to invade, must be all about "harm reduction"…or "treating addicts." It must all purely be out of the kindness of their generous hearts, and their deeply held compassion for the not-so-friendly neighborhood junkie. Right?
This is where the details can get a little murky. You may have heard certain progressive automatons on your Facebook pages singing interminable praises for these facilities, using dismissive rhetoric like "read a book" in an effort to make you seem ignorant and scientifically illiterate. They repeat grandiose and self-affirming headlines like Science Supports Safe Injection Sites and Safe Injection Sites AREN'T Immoral.
These individuals, however, are simply parroting the inconclusive studies that have taken place in the few locations where supervised heroin injection sites have been tried. And the mantra they all seem to repeat ad nauseam is "harm reduction." Harm reduction to whom? Society? Culture? Our neighborhoods, families and children? No, of course not.
The sum-total of all these studies was, essentially, we think fewer junkies died.
That's it. That's the sum total of the "harm reduction" philosophy. You'd think that if injection sites in places like Toronto, Ontario were such a wonderful thing that worked miracles in cleaning up the communities where they exist, the local community would be happy as Canadian clams, and they'd have the results to back themselves up.
In reality, the Toronto injection facilities have found an increase in drug sales and needles in the surrounding area, about 200 in-house overdoses per year, and zero data on how many addicts are actually being helped, because they know for a fact that most of their clientele are doing heroin outside of the facility as well. The only positive piece of data they seem to have is that there is an encouraging number of addicts seeking help at the facility–but this should go without saying, since, as an addict, you'd have to desire a safe place and medical attention if you're using the injection site in the first place!
Most of drug addicts simply don't want to go. Only addicts who have a real desire to get better will trust or utilize this facility. It's the same reason they don't check themselves into rehab, the Salvation Army, or a homeless shelter. Supervised Injection Sites are anathema to the hard work being done by all of those other nonprofit groups.
The other gigantic and glaring elephant in the room is the concept of procurement. Drug sales will inevitably go up, and addicts who already steal and pillage with impunity to finance their habit will continue to do so. Now they'll almost certainly be driven to whichever neighborhoods feature these Safehouse facilities as a sanctuary. The City knows this, and the Police know this; which is why they are rushing to create contingency and containment plans in the neighborhoods targeted for Injection Facilities.
We also can't help but wonder how it could possibly be ethical for the medical professionals in these facilities to receive an unidentified street drug from a "client," help the individual tie off his arm, provide him all of the tools he needs, and assist him in "safe" injection of whatever substance he brought in.
Imagine a scenario where a family member or someone you know is struggling with drug addiction, stealing from friends and family to fuel this habit, all the while being encouraged to stop, seek treatment, and being shown tough love along the way.
Now imagine the city you live in tells this loved one that they're drug use is nothing to be ashamed of. In fact, they should be free to inject themselves with the full nonjudgmental support of trained medical professionals. I would think you'd be just a little pissed off that your elected officials are openly enabling addicts to pursue their addictions.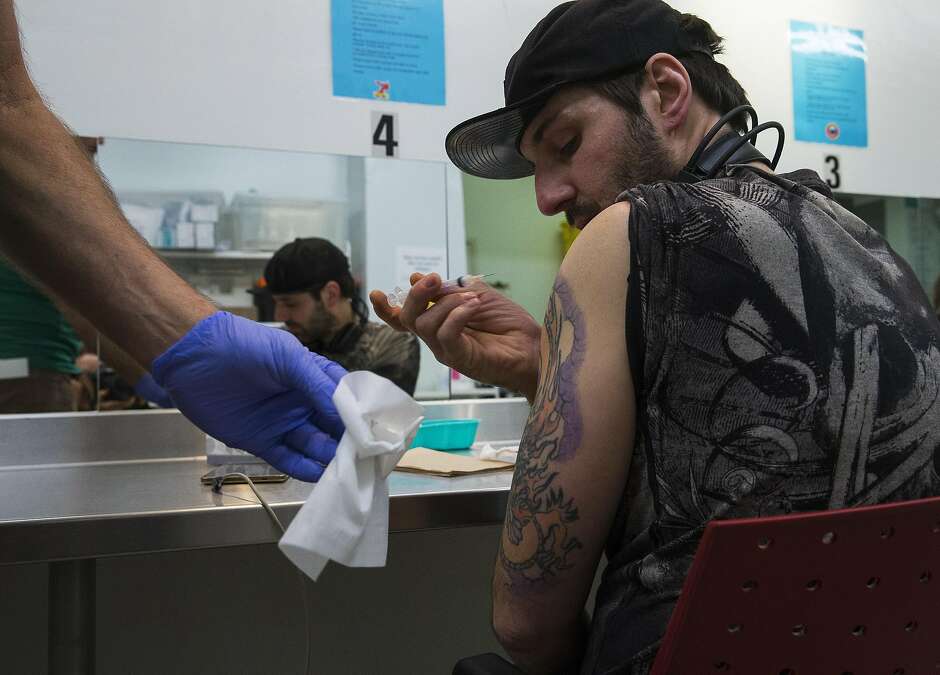 Understandably, just as pissed off as local communities having these so-called "safe injection sites" force down their throats. We are constantly being told that the studies are against us, that the anti-opium den studies have all been "debunked." It's categorically false that any of these facilities do anything "positive" other than keeping drug addicts alive. Addicts over-dose and are repeatedly brought back to the world of the living.
And it may sound crass and heartless, but…why? Why are we devoting millions of dollars and resources to rescue individuals who aren't just chronically suicidal, but dangerous anti-social plagues on our communities?
There must be something in it for Safehouse and other injection site nonprofits springing up all over the world, because having faith in the altruism of these progressive idealists is a fool's errand.
After years of trying to find an appropriate neighborhood to stick their first supervised injection site, Safehouse decided on South Philadelphia; specifically, within the Constitution Health Plaza at the corner of Broad and McKean streets. Originally, they were focused on establishing their facility at the heroin epicenter of the city, the Kensington neighborhood. But according to the organization, they don't have the budget for a facility there quite yet. Inexplicably, they plan to generate enough funds to open upwards of 20 locations all throughout the city in the coming years, so the opium business must be lucrative somehow!
Evidently, the people of South Philly aren't jazzed about having an influx of heroin addicts popping up next to their schools and daycare facilities. Locals claim to have been "blindsided" by the announcement, and the Progressives are laughing it up.
Philadelphia Mayor Jim Kenney and Philadelphia District Attorney Larry Krasner have turned a blind eye to the city, and to its people. While Kenney gallivants around the globe advocating for these free opium dens, Krasner perpetuates a rise in violent & nonviolent crime in the city by allowing career criminals to operate free from prosecution.
The NIMBY Communities of Philadelphia aren't taking this matter lying down. Anti-Injection Site protests are planned for this weekend, as the facility plans to open within a week. In addition, U.S Attorney William McSwain who has taken on the crusade against these proposed sites for the past year, says that he plans to file an appeal against the Federal ruling.
"We respectfully disagree with the District Court's ruling and plan to appeal immediately…What Safehouse proposes is a radical experiment that would invite thousands of people onto its property for the purpose of injecting illegal drugs. In our view, this would plainly violate the law and we look forward to presenting our case to the U.S. Court of Appeals for the Third Circuit."
This whole ordeal is just another ongoing battle in the current socio-political civil war; and it's going to take a lot more action, more push-back, and more organization to keep our cities and towns from falling into a Bolshevist spiral of irreparable degeneration.
Democrats have a long history of taking any subset of society they can wrangle, and using them for their ultimate political purposes; from slavery, to mass migrants, to illegal immigrants, to the mentally unstable, to the easily-manipulated among the LGBTs, to the noble smack addict.
In this case, they're creating zombies, quite literally utilizing the opiate of the masses to control these specific masses. By the time they've successfully corralled a solid percentage of these soulless street-walkers, they will be able to make very real threats regarding what might happen if all of these facilities were suddenly defunded and shut down. Their new army of the veritable undead will be used as a bargaining chip to hold entire neighborhoods hostage.